Lesson 1: A Humanitarian from the Beginning
God the Uncreated One (King Forevermore)
The Bible begins with the simple phrase, "In the beginning, God." (Genesis 1:1) Let that sink in for just a moment. Even before there was a beginning, even before there was time itself, there was God. You are a created being. God is not. God always was and always will be. Everything that is is from him and is his. What are the implications of this simple fact when it comes to having a proper understanding of who we are and who we aren't?
In their 2016 song release, God the Uncreated One (King Forevermore), Aaron Keyes and Pete James explore all of the implications and ramifications of God's timeless rule and reign.
Beginning with the uncreated creator, [God the Uncreated One] takes the singer through line after line of the rich, biblical imagery of God's sovereign control and reign over his creation. He is the King, and in his kingdom, he rules over all men and every kingdom. Though each of these ebbs and flows at the sole discretion of his perfect will, God himself never changes. His word, his character, and his designs are as flawless and unchanging as his very nature. The song centers on the pillars of the gospel itself – Christ's incarnation, death, and resurrection – and followed by images of heavenly praise. The king who reigns forever is crowned, exalted, and rightly receives the eternal honor due to his name. He is, as angels and men proclaim together, holy, holy, holy.
Each verse of the hymn emphasizes and expands on why God deserves our honor and praise as the one true King. Aaron and Pete's words explore eloquently how this King is unique from all other earthly kings.
This King was before all things.
This King created all things.
This King knows all things.
This King's power and authority are perfect.
This King is constant.
This King died to save his people.
This King rose to rescue and redeem.
This King is a God of Grace.
This King is King of Kings forevermore.
Be edified in the journey this song takes you on to explore the enormity of who God is, what he has done, what he is doing, and what this means for you and me. He is indeed the King forevermore. Praise him. Proclaim him.
1. God the uncreated One
The author of salvation
Wrote the laws of space and time
And fashioned worlds to his design
The One whom angel hosts revere
Hung the stars like chandeliers
Numbered every grain of sand
Knows the heart of every man
He is King forever
He is King forever
He is King forevermore
2. God our fortress and our strength
The rock on which we can depend
Matchless in his majesty
His power and authority
Unshaken by the schemes of man
Never-changing, Great I Am
Kingdoms rise and kingdoms fall
He is faithful through it all
Crown him King forever
Crown him King forever
Crown him King forevermore
3. Mighty God in mortal flesh
Forsaken by a traitor's kiss
The curse of sin and centuries
Did pierce the lowly Prince of Peace
Lifted high, the sinless man
Crucified, the spotless Lamb
Buried by the sons of man
Rescued by the Father's hand
To reign as King forever
Reign as King forever
Reign as King forevermore
4. King Eternal, God of Grace
We crown You with the highest praise
Heaven shouts and saints adore
You're Holy, Holy, Holy Lord!
What joy in everlasting life
All is love and faith is sight
Justice rolls and praises rise
At the Name of Jesus Christ
King of Kings forever
King of Kings forever
King of Kings forevermore
UMG (on behalf of Getty Music (GTM)); Music Services, Inc. (Publishing), ASCAP, Capitol CMG Publishing, LatinAutorPerf, and 9 Music Rights Societies
Illustrating Our Sin & Our Savior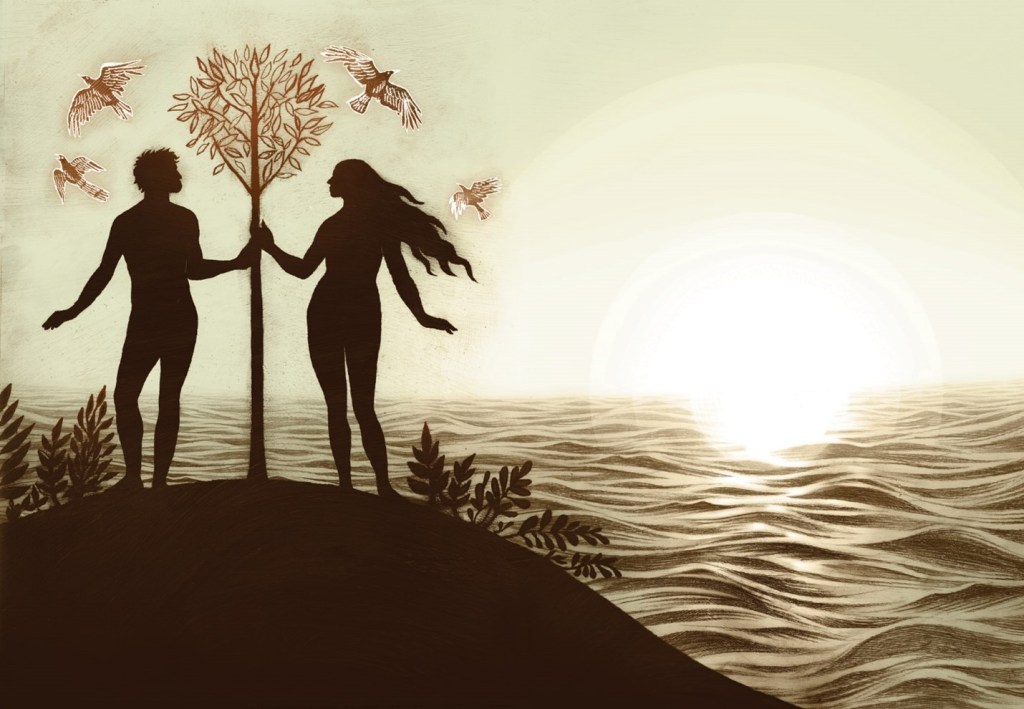 And God said, Let us make man in our image, after our likeness: and let them have dominion over the fish of the sea, and over the fowl of the air, and over the cattle, and over all the earth, and over every creeping thing that creepeth upon the earth. So God created man in his own image, in the image of God created he him; male and female created he them. God blessed them and said to them, "Be fruitful and increase in number; fill the earth and subdue it. Rule over the fish in the sea and the birds in the sky and over every living creature that moves on the ground."

Genesis 1:26-28