Lesson 10: A Humanitarian by Dying For Us
Performed by Dominic Chin
Man of sorrows Lamb of God
By His own betrayed
The sin of man and wrath of God
Has been on Jesus laid
Silent as He stood accused
Beaten mocked and scorned
Bowing to the Father's will
He took a crown of thorns
Oh that rugged cross
My salvation
Where Your love poured out over me
Now my soul cries out
Hallelujah
Praise and honor unto Thee
Sent of heaven God's own Son
To purchase and redeem
And reconcile the very ones
Who nailed Him to that tree
Now my debt is paid
It is paid in full
By the precious blood
That my Jesus spilled
Now the curse of sin
Has no hold on me
Whom the Son sets free
Oh is free indeed
See the stone is rolled away
Behold the empty tomb
Hallelujah God be praised
He's risen from the grave
A Lamb Goes Uncomplaining Forth
Song Lyrics
A Lamb goes uncomplaining forth,
Our guilt and evil bearing
And, laden with the sins of earth,
None else the burden sharing.
Goes patient on, grows weak and faint,
To slaughter led without complaint,
That spotless life to offer,
Bears shame and stripes and wounds and death,
Anguish and mockery and says,
"Willing all this I suffer."
This Lamb is Christ, the soul's great friend,
The Lamb of God, our Savior;
Him God the Father chose to send
To gain for us his favor.
"Go forth, my Son," the Father said,
"And free my children from their dread
Of guilt and condemnation.
The wrath and stripes are hard to bear,
But by your passion they will share
The fruit of your salvation."
"Yes, Father, yes, most willingly
I'll bear what you command me.
My will conforms to your decree;
I'll do what you have asked me."
O wondrous Love, what have you done!
The Father offers up his Son,
Desiring our salvation.
O Love, how strong you are to save!
You make his bed within the grave
Who built the earth's foundation.
From morn till eve, in all I do,
I'll praise you, Christ, my treasure.
To sacrifice myself for you
Shall be my aim and pleasure.
My stream of life shall ever be
A current flowing ceaselessly,
Your constant praise outpouring.
I'll treasure in my memory,
O Lord, all you have done for me,
Your gracious love adoring.
Man of Sorrows: Philip Bliss/Hillsong United 2013
A Lamb Goes Uncomplaining Forth: Text: Paul Gerhardt, 1607–76, abr.; tr. The Lutheran Hymnal, St. Louis, 1941, alt.
Illustrating Our Sin & Our Savior
Herein is love, not that we loved God, but that he loved us, and sent his Son to be the propitiation for our sins.

1 John 4:10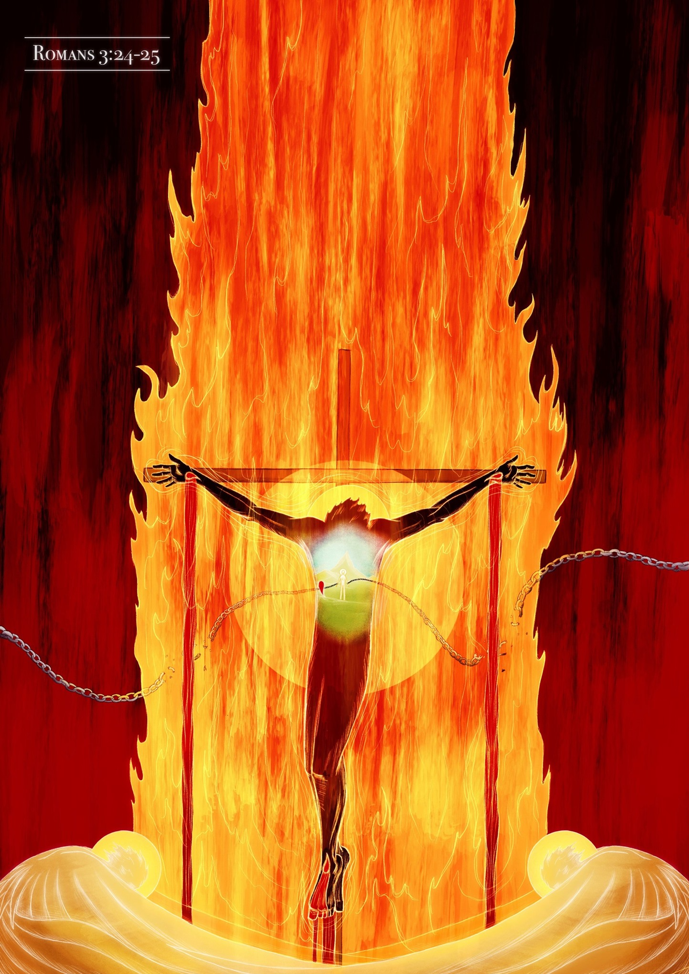 For all have sinned, and come short of the glory of God; Being justified freely by his grace through the redemption that is in Christ Jesus: Whom God hath set forth to be a propitiation through faith in his blood, to declare his righteousness for the remission of sins that are past, through the forbearance of God; To declare, I say, at this time his righteousness: that he might be just, and the justifier of him which believeth in Jesus.

Romans 3:23-26